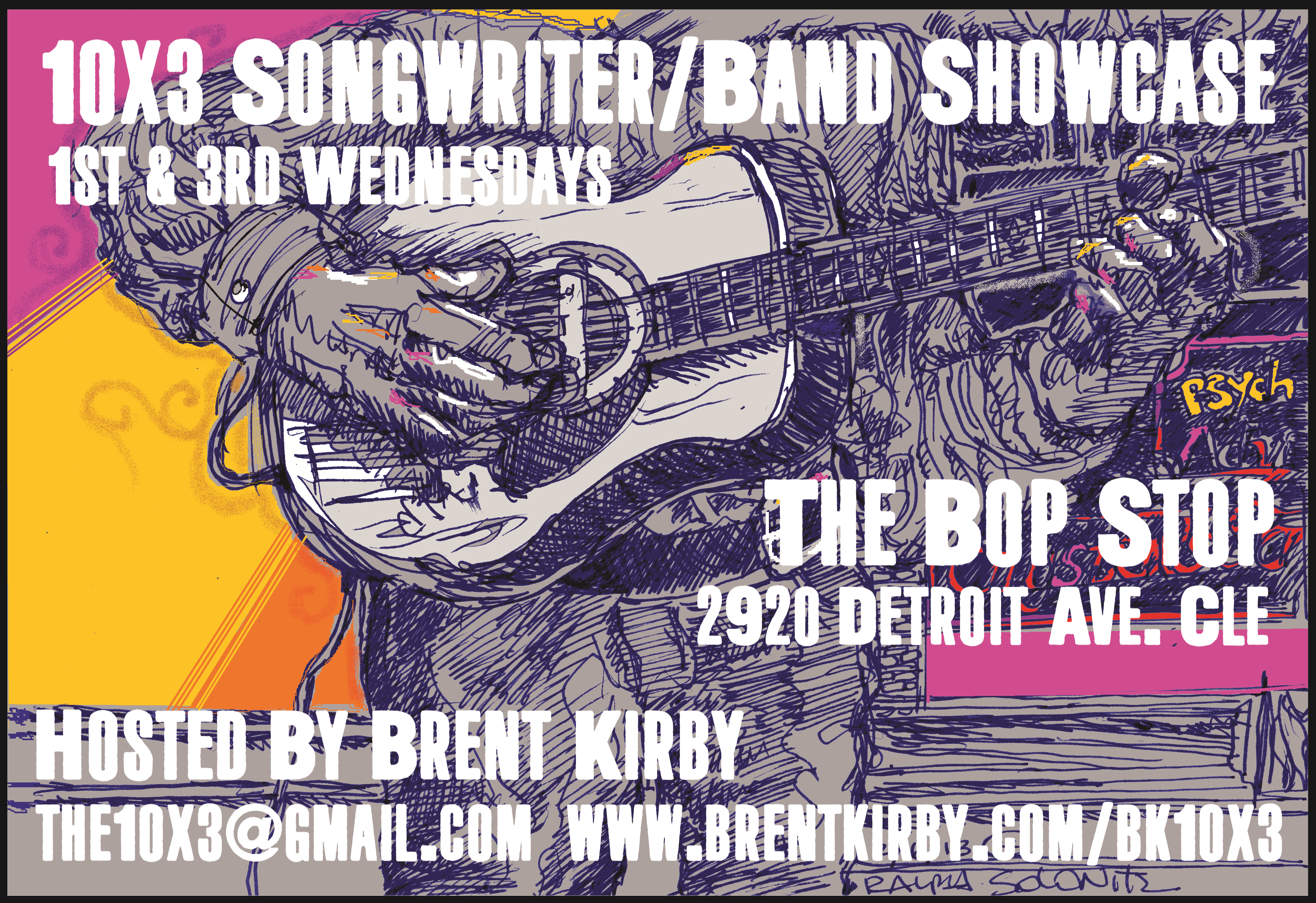 Brent Kirby's 10 X 3 Songwriter Showcase
at Bop Stop at the Music Settlement
The event is a pre-arranged open mic on the 1st and 3rd Wednesdays of the month at the Bop Stop from 7-10pm. The Bop Stop's address is 2902 Detroit Ave. Cleveland, OH 44113.
10 singer/songwriters, presenting 3 songs each; at least 2 songs required to be originals. It gives singer/songwriter the ability to showcase their original material in a listening room atmosphere.
Brent Kirby's 10x3 songwriting showcase returning in August 2022
By Annie Nickoloff for Cleveland.com
Fill-out the form and indicate:

*Date you wish to perform
*Preferred time slot
*Both email and phone number
*Please DO NOT contact The Bop Stop or to request time slot.
Thanks!

Time slots are as follows:
7:00     7:20     7:40   
8:00     8:20     8:40   
9:00    9:20    9:40  
10:00 Brent Kirby or Guest Host

Guidelines: There are always questions and concerns about format, so here are a few guidelines/rules to help the evening run smoother and help enhance the experience for performers and the audience. They are…
All time slots are pre-arranged by submitting a request at the above form or by emailing THE10X3@GMAIL.COM and requesting a desired date and time.
Performer has a limit of 3 songs and approximately 15 minutes to perform them. Two of the songs MUST be original with a third song cover or original. This is an event to feature and encourage singer/songwriters and the songs they write.
Please be present and check in with host at least 10 minutes before your pre-arranged scheduled time slot.
Backline provided at Bop Stop- PA, mics, cables, mic stands, DI's and mixer available for ¼" and XLR inputs, multiple monitors, Steinway grand piano, guitar amp, bass amp, Hammond B3 with Leslie, Fortune drum kit (4pce with hardware and cymbals). Please bring your cables, tuners, sticks, straps, etc.
You are highly encouraged to bring any merchandise you would like to sell. There will be a dedicated table for merchandise. You are responsible for all of your transactions.
Only one time slot available to a performer per night.
Word of mouth is the best advertising; so let your fans, friends, and family know you are playing and when. Use your social media and email lists!
The venue/host will solely determine if the volume level of a performance is appropriate. The goal is a pleasant listening environment for all involved.
There is no pay, however, any tips that you receive during your performance are yours to keep.