THE NEW SOFT SHOE
On the second Thursday of the month in 2022 in Forest City's Waldorf Room or Atlantic Beer Garden
All Gram All Night!
Cover charge of $5
Extraordinary Northeast Ohio musicians perform the music of Gram Parsons!
Please sign up on the BK mailing list (found at home page) to be notified of the
New Soft Shoe shows
Current shows for 2022:
Thursday, January 13 12 Year Anniversary Show! 7pm Forest City Brewery
Thursday, February 10 7pm Forest City Brewery
Thursday, March 10 7pm Forest City Brewery
Thursday, April 14 7pm Forest City Brewery
Thursday, May 12 7pm Forest City Brewery
Thursday, June 9 7pm Forest City Brewery
Thursday, July 14 7pm Forest City Brewery
Thursday, August 4th 7pm Rock and Roll Hall of Fame
Thursday, August 11 7pm Forest City Brewery
Thursday, September 8 7pm Forest City Brewery
Saturday, September 24 3pm Sportsmens Tavern, Buffalo
Thursday, October 13 7pm Forest City Brewery
Thursday, November 10 7pm Forest City Brewery
Thursday, December 8 7pm Forest City Brewery
     Chris Hanna- keys    Andy Leach- guitar,vocals   Brent Kirby- guitar, vocals    Al Moss- pedal steel, vocals    Jon Niefeld- drums   Tom Prebish- bass, vocals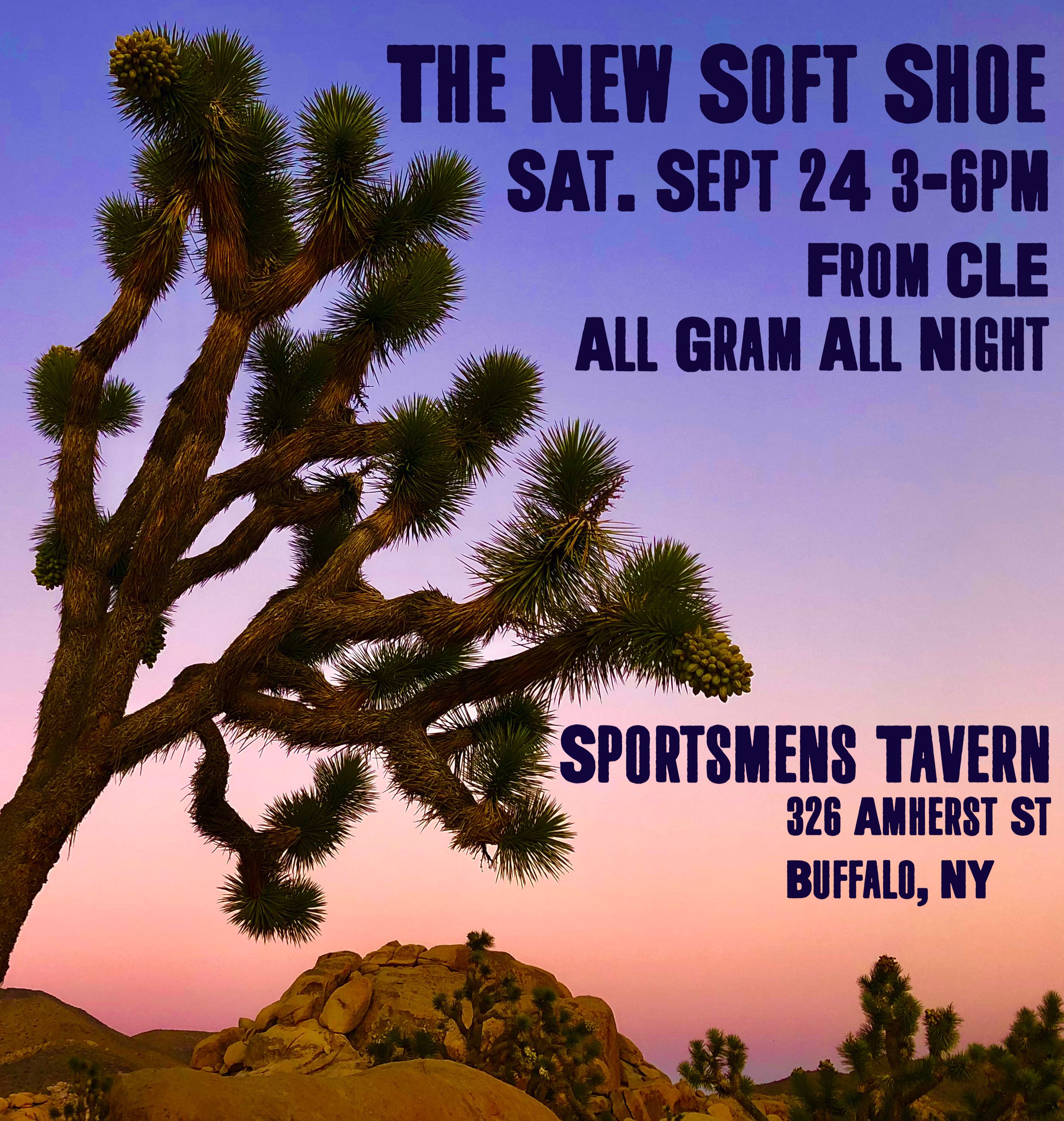 The New Soft Shoe To Perform At Sportsmens Tavern in Buffalo
The New Soft Shoe, Cleveland's own Gram Parsons cover band, will travel to Buffalo to play some Cosmic American music for the fine folks in Buffalo on Saturday, Sept. 24at the legendary Sportsmens Tavern. Show is from 3pm-6pm with a cover charge of $10. Please get your tix at:
https://sportsmensbuffalo.com/?event=the-new-soft-shoe-3pm-10
New Soft Shoe to Kick Off a New Residency at Forest City Brewery in January
Posted By Jeff Niesel from Cleveland Secne on Thu, Dec 27, 2018 at 9:26 AM
Nine years ago on what local singer-songwriter Brent Kirby calls a drunken dare, a group of Cleveland friends and musicians showed up at the Happy Dog to play a couple sets of tunes by the late, great Gram Parsons. Dubbed the New Soft Shoe, the group has been at it ever since, spreading the gospel of what it refers to "Gram's Cosmic American Music."

Anything that Parsons played, the New Soft Shoe covers. As a result, the group plays tunes from the International Submarine Band, the Byrds and Flying Burrito Brothers. It also plays songs from Parsons solo records GP and Grievous Angel. The band has performed at the Gram Parsons Guitar Pull in Waycross, GA, and at the Rock & Roll Hall of Fame here in Cleveland.

For the last couple years, the group has performed monthly gigs at different venues around town.

At 9 p.m. on Thursday, Jan. 10, it celebrates its nine-year anniversary with a special show in the Waldorf Hall at Forest City Brewery. That show will also kick off a residency at the Tremont brewery, and the band will perform at the venue on the second Thursday of every month.

"Everyone in the band and our audience is excited about the monthly residency at Forest City Brewery," Kirby says in a press release. "The Waldorf Hall is an amazing old wood hall with a really crisp big sound. The first time I played there, I felt it would be a great place for us to perform these songs."

The current lineup includes some of Cleveland's best musicians and features Al Moss (pedal steel, vocals), Andy Leach (guitar, vocals), Kirby (acoustic guitar, vocals), Chris Hanna (keys), Jon Niefeld (drums) and Tom Prebish (bass, vocals).

For late country-rock legend Gram Parsons, a cult following grows in Cleveland
Published: Sunday, October 23, 2011, 6:00 AM
John Soeder, The Plain Dealer By John Soeder, The Plain Dealer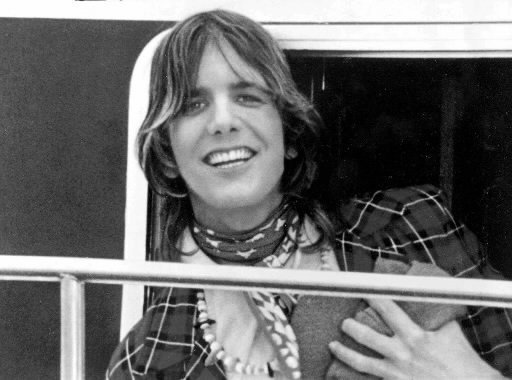 Gram Parsons
is alive and well and living in Cleveland's Gordon Square neighborhood.

Or at least his music is.
The songs of the late country-rock pioneer have found a new home at the Happy Dog on Detroit Avenue,
wher
e a Parsons tribute band named the New Soft Shoe (after one of his tunes) performs on the second Thursday of every month. They've won a sizable following.

The six-piece group is led by local singer-songwriter Brent Kirby.
"If anyone doesn't know who Gram Parsons is, grab someone's iPhone and Google it," Kirby teased the audience on a recent evening. Between numbers, he paused to tune his acoustic guitar in the glow of the neon signs behind the stage.

Rainy weather didn't deter dozens of fans from packing the cozy venue. Many not only seemed intimately familiar with Parsons' songbook, but shouted requests, sang along with gusto and cheered every solo. A few couples even danced.

You won't find a more vibrant mini-scene in town, even if the object of all this affection is long gone.

Parsons died in 1973 of an overdose of morphine and tequila. He was 26.

Yet as the 65th anniversary of his birth (on Nov. 5, 1946) approaches, his popularity shows no signs of waning.

By fusing the timeless twang of country and the youthful energy of rock 'n' roll, this cult hero blazed a trail for the likes of the Eagles and any number of other so-called "country-rock" artists. Parsons himself preferred the term "cosmic American music" to describe his sound.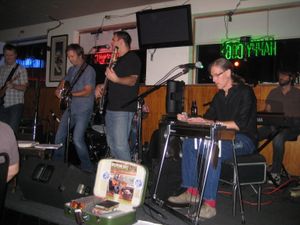 "Gram wrote great songs," his pal Keith Richards of the Rolling Stones wrote in his memoir, "Life."
Parsons hung out with the Stones when they recorded their 1972 magnum opus "Exile on Main Street" at Richards' villa in France.

"He could write you a song that came right round the corner and straight in the front, up the back, with a little curve on it," Richards wrote.

"Guys he could rub pretty hard . . . but his effect on women was phenomenal. It wasn't boo-hoo, it was heartstrings. He had a unique hold on that particular string, the female heart."

At the Happy Dog this month, Kirby and friends performed "Sweetheart of the Rodeo," the landmark 1968 album by the Byrds, recorded during Parsons' short-lived tenure in that group.

The New Soft Shoe played the album in its entirety, from "You Ain't Goin' Nowhere" to "Nothing Was Delivered." They also did outtakes, as well as a whole other set that included "Luxury Liner," "Sin City," "Hot Burrito No. 2" and other Parsons favorites.

His unfettered spirit was expertly channeled by Kirby, a restlessly creative dynamo who also plays original music with a band called the Lost Fortunes. He's in the Jack Fords, too.

His bandmates have their credentials in order, too. Ace guitarist Andy Leach is the director of the Rock and Roll Hall of Fame and Museum's Library and Archives. Pedal steel virtuoso Al Moss plays with Hillbilly Idol. Keyboardist Justin Gorski moonlights as DJ Kishka. Bass player Tom Prebish is a member of Chris Allen's band and the Boys from the County Hell. And drummer Jon Niefeld used to be in the Rembrandts, of "Friends" theme fame.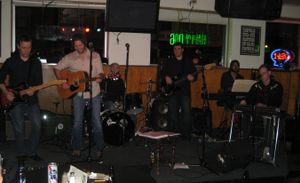 "The last thing any of us needed was one more project," Kirby said.

"Everyone in the band has plenty of other things going on. But this just seemed like fun. And everyone is here for the right reasons.

"It feels like we're doing something that has substance."


'The hippies-playing-country thing'

The New Soft Shoe might be just a side project, but Kirby & Co. give it everything they have. Their devotion to the material borders on religious. And the musicianship, complete with inspired soloing and tight vocal harmonies, is top-notch.

"This is about as good as it gets in this town," said John Hannibal, a New Soft Shoe regular who runs the Radio Hannibal music blog.

The proceedings are casually educational, too, with Kirby prone to slipping Parsons trivia into his song introductions.

"They wrote this song about a draft notice they got in the mail," Kirby said before launching into "My Uncle" (as in Uncle Sam), a gem off "The Gilded Palace of Sin," the 1969 debut of another Parsons band, the Flying Burrito Brothers.

Emcee Emma Sleva, a disc jockey on WRUW FM/91.1, harmonized sweetly with Kirby on "A Song for You." And Dave Molnar, the Happy Dog's sound man, borrowed Leach's guitar to fire off a mean lead on "Return of the Grievous Angel."

It was past midnight when Kirby & Co. signed off with a ripsnorting version of "Mr. Spaceman," a Byrds song that Parsons was known to have covered.

J.C. Spearry of Chagrin Falls soaked it all in at a small table down front. Whenever he can, he'll drive crosstown to catch the New Soft Shoe.

"They've brought a lot of life back to Gram Parsons on this little corner," Spearry said. "They really love what they're doing."

Last month, Kirby and Moss performed in front of hundreds of Parsons fans at a festival in his hometown of Waycross, Ga.

Parsons was born into a wealthy family, although his youth was hardly carefree. When he was 12, his father committed suicide. On the day of Parsons' high-school graduation, his mother died of alcoholism.

Parsons briefly attended Harvard University, but dropped out to jam with the International Submarine Band.

Next came a stint with the Byrds. After parting ways with that group in 1968, Parsons and another ex-Byrd, Chris Hillman, formed the Flying Burrito Brothers.

By 1970, Parsons was on his own. He made two solo albums, "GP" (1973) and "Grievous Angel" (1974). Shortly after the latter album was completed, he died while on vacation near the Joshua Tree National Monument in California.

Years later, those albums struck a chord with Kirby, a Wisconsin native who moved to Cleveland in 2001.

"I like old country, people like George Jones and Merle Haggard," Kirby said.

"But when I heard Gram Parsons, it was like: 'Now that's someone I can relate to.' It had the same roots. But it felt more contemporary. Maybe it's the whole hippies-play-country thing. I related more to that than to a bunch of dudes in cowboy hats."