Brent Kirby releases "The Wild Fields", a song to benefit Ukraine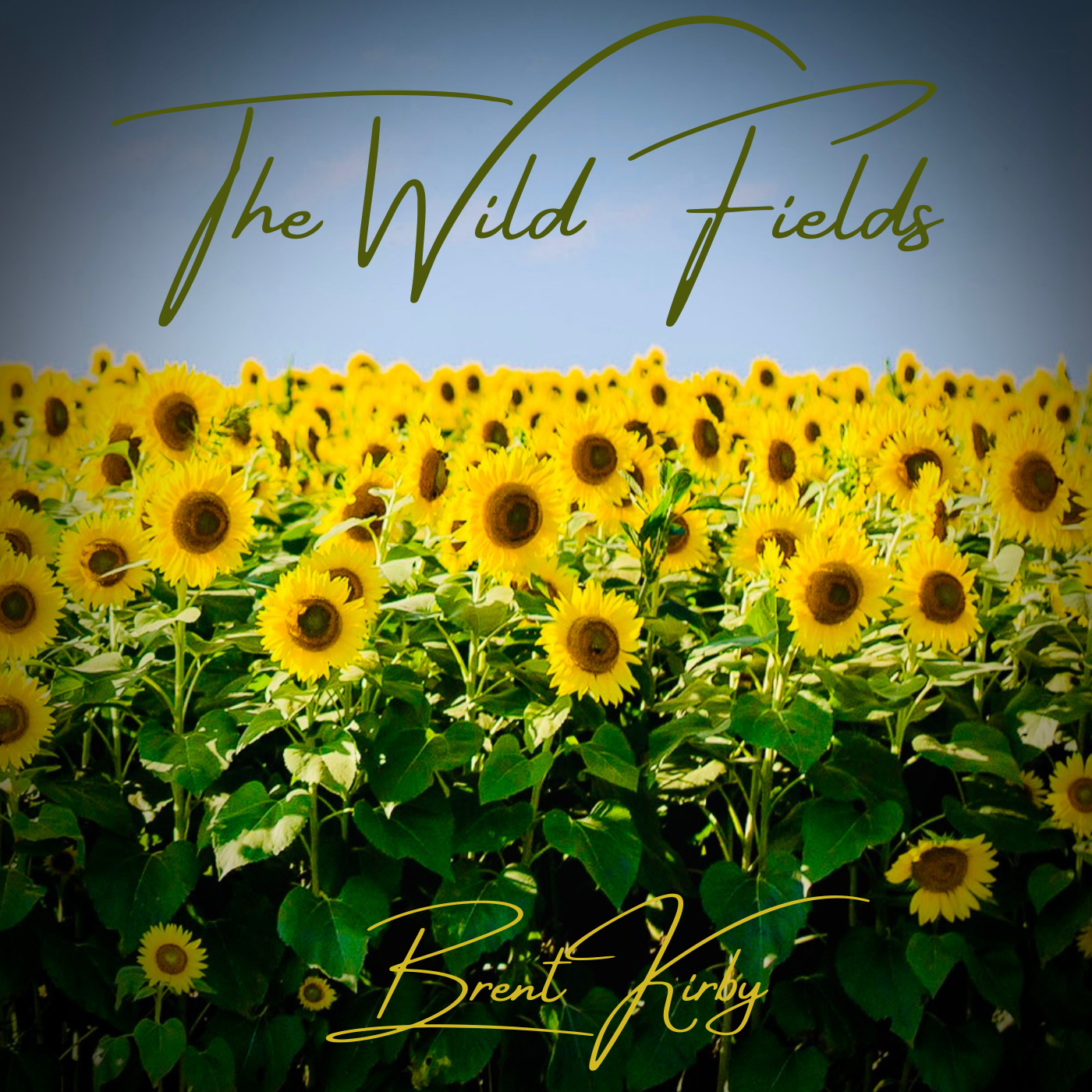 "There is so much going on in the world today", Brent says, "and I feel that we cannot forget what is currently happening in Ukraine and how America needs to continue to protect democracy there."
Brent Kirby's new song "The Wild Fields" is on Bandcamp for Bandcamp Friday, and all proceeds from it will go to Fund To Aid Ukraine at www.fundforukraine.org. It's a non profit located in Parma, OH. By donating on Bandcamp Friday, a bigger percentage (93%) goes to the cause.
To hear the new song and donate: https://brentkirby.bandcamp.com/track/the-wild-fields
Kirby wrote "The Wild Fields" back in April of 2022 for a benefit for Ukraine that Charlie Wiener organized at the Beachland Ballroom. David Kennedy took him to Tri-C to record it, and then mixed it. Adam Boose from Caulifower Audio mastered it. They both donated their time and talent. Thank to these Cleveland heroes!
If you just want to listen to it or even share, that would be really appreciated!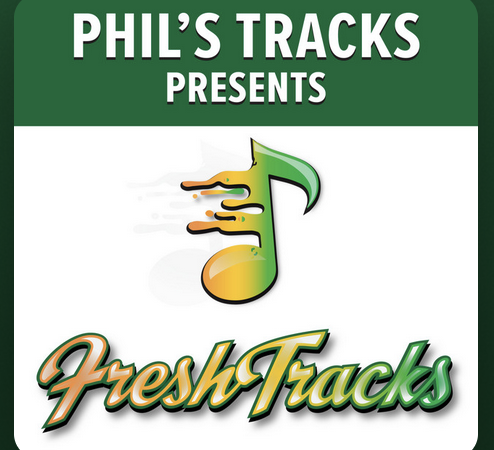 Brent Kirby interviewed for podcast Phil's Tracks
Check out Brent's interview on Phil's Tracks. Phil is shedding light on talented musicians all across Northeast Ohio. They covered a lot of territory in a short amount of time. How Brent arrived in Cleveland, his songs, The New Soft Shoe, The Jack Fords, Doug McKean and The Stuntmen, The Ohio City Singers, collaborations with Zach & Ray Flanagan, Brent's songwriting education, Roots of American Music, the 10 x 3, Songwriter Showcase and his work booking original music in Cleveland.
Check out the interview here on Spotify: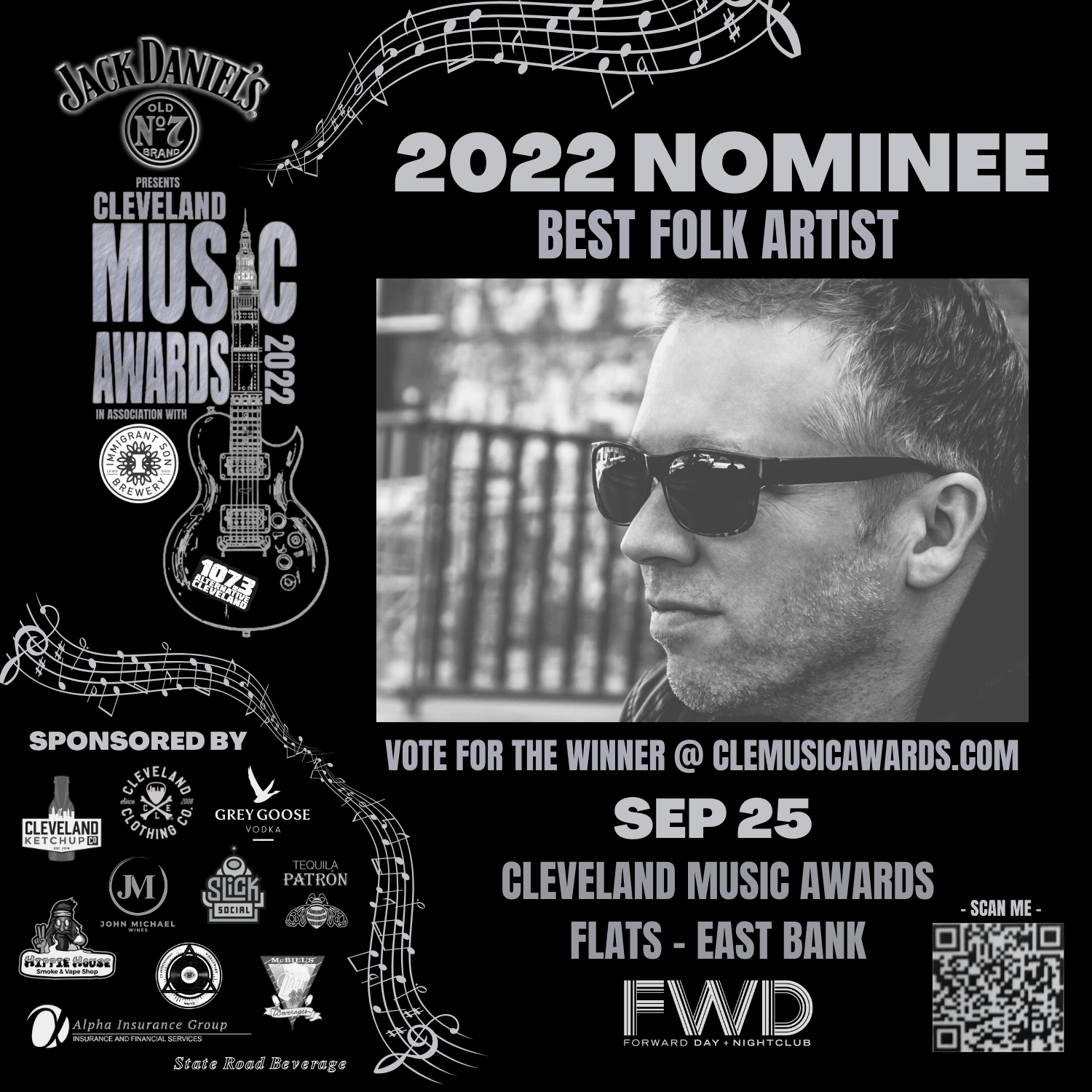 BRENT KIRBY AWARDED BEST FOLK FOR CLEVELAND MUSIC AWARDS
Brent Kirby was awarded Best Folk for the 2022 Cleveland Music Awards.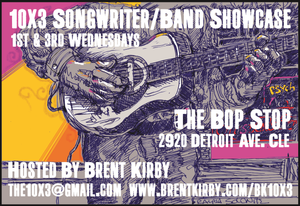 Brent Kirby's 10X3 Songwriter/Band Showcase to resume at The Bop Stop
Brent Kirby's long running 10x3 Songwriter/Band Showcase will make it's return at The Bop Stop at The Music Settlement on the first and third Wednesdays of the month starting August 3, 2022 from 7pm-10pm. The 10x3 abruptly ended its nine plus year weekly run when the Covid-19 shutdown closed down all music venues in March of 2019. The concept of the 10x3 is a pre-arranged line up with 10 songwriters/bands performing three songs each, two of the them required to be original and the third can be the artist's choice of original or cover. The Bop Stop is located at 2920 Detroit Ave. Cleveland, OH 44113.

Ohio Arts Council Awards Brent Kirby With Songwriting Residency at Midview School District
The Ohio Arts Council awarded Brent Kirby and Midview School District (Grafton, Ohio) a continuing grant for a Songwriting Residency for the 2021 fall semester. This will be the fifth consecutive residency for Brent at the school district. He will focus on writing and performing original songs with the choirs, and leading a daily, dedicated songwriting class. The songwriting class will focus on a complete approach to songwriting, including multiple techniques for creative brainstorming, lyrical writing, detailed anatomy of song form, musical terms and theory, listening and analyzing different styles of popular music, Garage Band song creation, historical perspectives, studio production and terms, collaboration, and music business. Brent has documented a curriculum for the class, and is working on refining that for further use. Huge gratitude to the Ohio Arts Council for their support with this project! Please visit https://www.oac.ohio.gov for more info on all the incredible programs the OAC supports!
Brent Kirby & Ray Flanagan Perform At The Rock & Roll Hall of Fame
Brent Kirby and Ray Flanagan performed as a duo for a part of the Rock Hall's 2021 Induction Celebrations. The two performed in the Rock Hall's interactive display "The Garage", which features instruments that visitors can put their hands on and play. The ROCK x CPL event was hosted in partnership with The Cleveland Public Library and is powered by PNC Bank. The virtual event featured music performances from Cleveland musicians, Brent Kirby and Ray Flanagan, music education activities curated by the Rock Hall's award-winning Education team, activities and stories with the Cleveland Public Library, and an instrument show and tell from Keep Music Alive
Brent and Ray played Brent's songs "I Am Soul", and a brand new tune "The Good Ones". In addition, they partnered on Ray's songs "Only Thing It Takes", "Over The Hill", and "Stupid Sound". Engineer Jim Stewart was there to capture the audio.
Follow the link for the full video https://www.youtube.com/watch?v=jwAEn3UyESU
Brent Kirby "I Am Soul" https://youtu.be/jwAEn3UyESU?t=2699
Brent Kirby "The Good Ones" https://youtu.be/jwAEn3UyESU?t=2946
Ray Flanagan "Only Thing It Takes" https://youtu.be/jwAEn3UyESU?t=944
Ray Flanagan "Over The Hill" https://youtu.be/jwAEn3UyESU?t=1214
Ray Flanagan " Stupid Sound" https://youtu.be/jwAEn3UyESU?t=3580
Forest City Brewery Residency Continues with
The Sunday Classic and The New Soft Shoe
For the year of 2023, Brent will continue his residency with the Sunday Classic and The New Soft Shoe at Forest City Brewery in the Atlantic Beer Garden or the Waldorf Room.
Continuing the 13 year tradition, The New Soft Shoe will perform from 7pm-10pm every second Thursday of the month. Best to get your seat early for this one. All Gram All Night!
The Sunday Classic, featuring Brent and his friends Ray Flanaga along with Ed Sotelo, will get together on the 4th Sunday of the month from 3pm-6pm to play original songs and off the beaten path covers. Come and join them for a relaxing Sunday of backyard party music.
In Brent Kirby, a lot of hope, faith, truth and music is traversed.
A true believer.
-Holly Gleason, No Depression